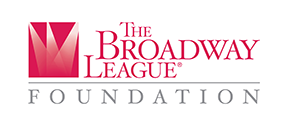 The National High School Musical Theatre Awards® are presented by The Broadway League Foundation.
The Broadway League Foundation Inc. is a 501(c)3 organization that acts as The Broadway League's charitable arm. Its mission is to enlighten and increase the public's knowledge, appreciation and awareness of the theatrical arts and to provide a forum for the discussion of issues relating to the preservation and promotion of live theatre as a vital and culturally significant artistic medium by such means as shall be charitable in nature.
If you are purchasing Broadway or off-Broadway show tickets, start at Givenik and The Broadway League Foundation will receive a donation of 5% of your ticket purchase. When shopping at Amazon.com, use our Amazon Smile link to contribute to the Foundation
Donate to The Broadway League Foundation in support of The National High School Musical Theatre Awards using the form below.